Disclosure: Sportshubnet is supported by its audience. When you purchase through links on our site, we may earn an affiliate commission. Learn More.
In this post, we will check out the extensive review of cloudways in 2023, its features, pros, and cons.
Cloudways is one of the finest companies when it comes to providing greatly affordable and fast-managed cloud hosting.
Cloudways offers a fully managed host and is capable of making the sites faster to meet the core web vitals.
The interesting fact is our site is also hosted in Cloudways. So it's very simple for me to outline its features, pros, and cons.
When it comes to fast, reliable, and affordable cloud hosting, nobody can beat Cloudways. They have fantastic features and you can scale hosting resources as your website grows over time.
Cloudways cheapest managed WordPress hosting plan starts at $10.00 per month. If you still want to know full details and consider using Cloudways then this review is just for you.
The best part of Cloudways is that it partnered with five different cloud hosting providers which include DigitalOcean, Vultr, Linode, AWS, and Google Cloud.
So now without further delay, let's go ahead and check out this extensive review of Cloudways in 2023 which outlines its features, pros, and cons.
Cloudways Review 2023
Cloudways Features
We will gonna outline its features but before let's test this amazing web hosting. We already using Cloudways for our site so let's check out how Cloudways performed on our site.
Let's test the speed of Cloudways with the help of the Gtmetrix tool:-
The results are amazing, it's successfully passing the core web vitals and making the site respond as quickly as possible.
Now let's have a sneak peek at all features:-
Ease of Use
When it comes to using Cloudways, the ease of use is as smooth as butter. Even a non-tech person can easily do things without much knowledge.
As a user, creating a server and installing the application will take less than 10 minutes. The only thing you have to decide is the number of resources you needed for your site and your server location where most of the visitors come from.
Cloudways helps you to install WordPress with a click of a button. You can also install other applications such as WooCommerce and Joomla for your other purposes.
You can clearly see the interface of Cloudways. Everything is organized in a way that makes user navigation super easy. The server section is divided into 8 categories:-
Master Credentials: This contains the master credentials which include SFTP and SSH access details for all applications.
Monitoring: This allows you to monitor server resources which is very important for securing server health and problem-free operation of your server. This section informs you about server resource utilization statistics and graphs.
Manage Services: This section control Core Services that allow your application to run which include Apache, MySQL, Memcached, Nginx, and PHP FPM.
Settings & Packages: This allows you to manage various server-level settings as well as packages.
Security: This will manage security settings which include whitelisting your IP and/or IP subnets for SSH/SFTP and MySQL connections.
Vertical Scaling: This option lets you increase or decrease your server size depending on the resources you needed.
Backups: This will manage your Backup preferences which include scheduling backup time, and performing an on-demand backup of your server.
SMTP: This will configure the SMTP service to set up outgoing email delivery on your Server.
The control panel of Cloudways is great for easily managing anything for your website. However, Cloudways also offers SSH and FTP access for more complicated tasks.
Improved Security
Cloudways is the best and takes security concerns very seriously. They have bot protection as well to ensure that your WordPress website remains completely safe and secure. It also blocks hackers & bots before they harm your site.
Other than that Cloudways provides Backups, if anything goes wrong, which is very vital for site owners.
Cloudways also provide free Let's Encrypt SSL certificates. An SSL certificate is a digital certificate that authenticates a website's identity and enables an encrypted connection. 
SSL certificates are very important for any site. Not using SSL/HTTPS will make your site less believable. Other than that Google has also confirmed that websites using an SSL certificate surely have an upper hand in the search rankings.
Free Website Migration
Now if you are thinking to take Cloudways service and want to migrate from a previous web hosting company, Cloudways will provide website owners a free website migration.
Cloudways website migration is a very smooth and simple process. You won't have to go through a long and tedious procedure for migrating your site to Cloudways.
The migration is totally free of cost and can be done with the help of their own WordPress plugin known as Cloudways WordPress Migrator. Check out this link for detailed info.
Launching Your Server Is Trouble-Free
Cloudways lets you configure the preferred server directly from their control panel:-
Cloudways works with the top 5 Cloud Providers. Yes, you have heard it right, Cloudways have partnered with the top 5 cloud providers which include Digital Ocean, Vultr, Google Cloud, Amazon Web Services, and Linode.
I will recommend going with the digital Ocean or Vultr if you are looking for an affordable option. However, if you have enough budget go with AWS.
Cloudways cloud providers are as follows:-
Digital Ocean
Vultr
Linode
Amazon Web Services
Google Cloud
Configuring Server Is Simple
Once you've selected a cloud provider, now it's your turn to select the server size. If you are just starting out I will recommend you to go with a 1 GB server size.
If you have more traffic in your blog then I will recommend you to go with the 2GB server size plan. At last, select the server location which is nearest to most of the visitors.
Install WordPress
After setting up the server with your favorite cloud, install WordPress from the "application management" tab.
Cloudways provides an optimized version, WordPress with WooCommerce, WordPress Multisite, and a clean WordPress installation (a default WordPress).
It is highly suggested to go with the first option i.e optimized installation, you will get a free WordPress cache plugin called Breeze. Now finally hit the launch server button.
Cloudflare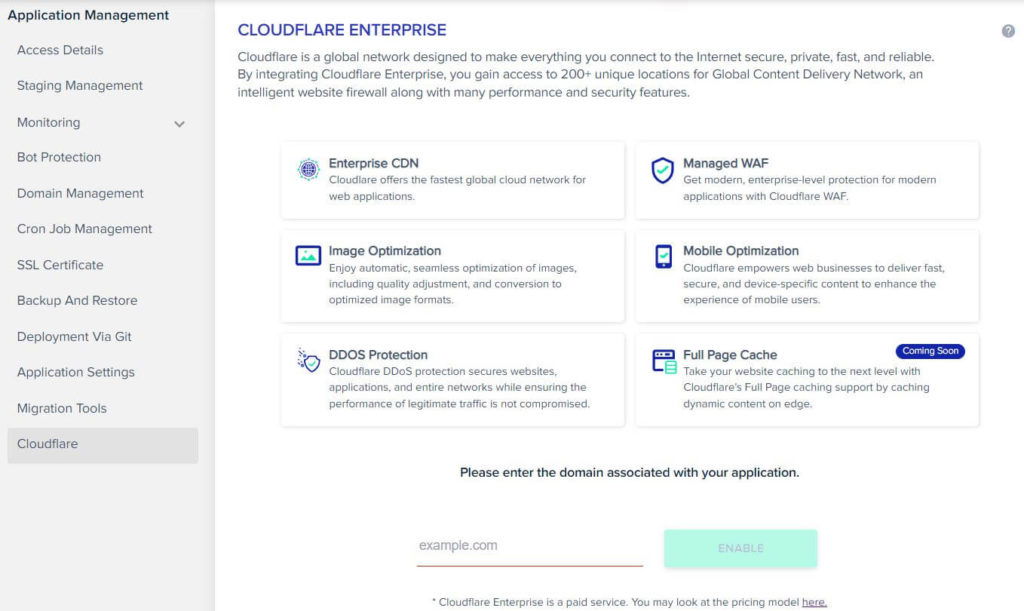 Cloudways other recent top feature is its partnership with Cloudflare to bring Enterprise CDN integration to excel your site execution.
Earlier they had a partnership with stack path which is known as Cloudways CDN but now you can relish the advantages of Cloudflare Enterprise Add-on at the lowest price possible.
| | |
| --- | --- |
| Single Domain | $4.99/month |
| 5-10 Domains | $3.99/month |
| 10-25 Domains | $2.99/month |
| 25+ Domains | $1.99/month |
With Cloudflare Add-on in Cloudways, you can get the benefits as follows:-
100GB Enterprise CDN
Priority DDoS protection
Intelligent firewall (WAF)
Image optimization with Polish
Brotli compression
Mobile optimization with Mirage
Wildcard SSL support
PCI DSS compliance
HTTP/3 support
Reserved for Cloudways IPs & prioritized routing
What Makes Cloudways The Best Cloud Hosting?
Cloudways Hosting is not only suitable for sites and blogs, but it's also equally appreciated by Ecommerce site owners.
It includes a broad range of e-commerce-friendly elements designed specifically to make e-commerce sites blazing fast.
The host provides speedy page loading times thanks to its features like Memcached, Apache, Varnish, and Nginx.
Cloudways also comes with a user-friendly panel, endless storage, supervised security, and backups.
Cloudways Hosting Plan Features
Each and every Hosting plan comes with a lot of different features and we gonna mention all the features below:-
Cloudways set up your server with the "Apache + Nginx" stack. It also offers numerous caching layers to enhance performance which include Nginx, Varnish, and Memcached. You also have the option to install Redis.
The other useful features are as follows:-
Cloudflare Add-on
24/7/365 Support
Free SSL
Free Migration
Unlimited Application Installation
Team Management
Dedicated Firewalls
24/7 Real-time Monitoring
Automated Backups
Staging Environment
Optimized With Advanced Caches
Auto Healing
Regular Security Patching
HTTP/2 Enabled Servers
SSH and SFTP Access
Cloudways Performance And Uptime
Cloudways has partnered with some of the top cloud providers and that's why Cloudways is capable of providing over 99% uptime.
The stats revealed the sites hosted on Cloudways has better load times as compared to the other web hosting company.
This is achievable by Cloudways, particularly with the featured add-ons of Varnish, Memcached, Apache, and Nginx to improve site speed.
Global Datacenters
There are more than 65 data centers available in Cloudways to select from. Other than that the Cloudflare enterprise add-on will be a game-changer for the Users.
These datacenter stores copies of your website. When somebody visits your site from a particular location, the system automatically catches their geographic area and delivers your site from the network node nearest to them.
How Cloudways Keep Your Site Safe?
Security is something that Cloudways is known for. Cloudways provides Bot protection which seeks to identify and block malicious traffic and protect from attacks like Dictionary attacks, Web Scraping, XMLRPC attacks, and Brute Force attacks.
The top features of Bot Protection are:-
Login Page protection.
Filtering of Bad Bots and Rouge Traffic.
Independent dashboard for monitoring.
The other ways Cloudways protect your site are as follows:-
 Secure managed cloud server.
 Firewall protection.
 Frequent OS patching and updating.
 Bruteforce Attack prevention
 Bot Protection
 Latest PHP version support.
 Latest database version support.
 SSL certificate for HTTPS.
 Website isolation.
 IP Whitelisting for secure SSH and SFTP accesses.
 Database Security.
 End-to-end Encryption.
 User management for controlled access to the server and websites.
Cloudways Review 2023 – Pricing
To be very frank Cloudways pricing is affordable. If you compare it with the big players like Kinsta.
The cheapest plan Cloudways provides is the $10 per month DigitalOcean cloud server, which really offers outstanding performance.
Just look at the different plans of the DigitalOcean Server:-
Cloudways is really very affordable. Anybody can opt for the services with the features they are providing. They provide excellent value for money.
Which Cloud Hosting Should You Use?
If you really don't know which one to start with, let me make it easy for you. If you are just starting out, go with the Digitalocean premium or Vultr High-Frequency entry-level plan.
Why I am recommending you go with Premium or High-Frequency plans because they really excel your speed to the highest level.
The small added fee is still really worth it to improve performance.
For your information let me tell you that Digital ocean's entry-level plan starts at $10 per month and the premium starts at $12 per month.
However, on the other side, Vultr entry-level plans start at $11 per month and Vultr High-Frequency plans start at $13 per month.
Cloudways Review 2023 – Help And Support
Cloudways is really helpful when it comes to supporting and helping. You can contact the support team via different modes which include phone calls, live chat, or email.
Other than that you can also find answers to any of your queries on their support page, which is popularly known as the knowledgebase articles.
Cloudways Promo Codes
Now let's come to the promo codes section which makes you start with Cloudways in a more affordable manner.
Cloudways provides us with an exclusive promo code for our readers. The promo code is  "SPORTSHUBNET" which will give you 20% off for 2 months on all plans.
Using the promo code is very easy. Just go to the Cloudways website and choose a plan that suits your site. When you are going to pay, just enter SPORTSHUBNET as the promo code, and you'll get 20% off for 2 months in your Cloudways plan.
Cloudways Review 2023 – Conclusion
I have been personally using it and I am in no mood of changing Cloudways in the future because of its price, features, security, reliability, and speed.
However, in this extensive Cloudways review, I try to outline features, pros, and cons to make our readers took a better decision.
If you ask me I will surely gonna recommend Cloudways for your hosting services.
Cloudways Review 2023 FAQ
Subscribe to Newsletter
Be the first to get premium and exclusive content straight to your email box!
Inbox looking a bit bland?
Better sign up to our blog to cram it full of trending Sports, Gaming & Tech updates.